Cyperus Esculentus Lativum - Chufa - Tigernut
CHARACTERISTICS
The Tigernut (cyperus sculentus lativum) or 'Chufa' as it is known in Spanish, is not actually a nut, but a small tuber. It was first discovered 4000 years ago and comes in several sizes. Tigernuts have long been recognised for their health benefits, as they are high in fibre, proteins, and natural sugars.
CULTIVATION
Tigernut cultivation requires sandy soil and a mild climate. As such, the geography of Valencia, situated on the Mediterranean coast of Spain, makes it the ideal location for producing the highest quality Tigernuts.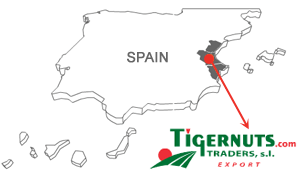 The Tigernuts grown here in Valencia have an intense, sweet flavour, smooth skin, and uniform shape. Tigernuts are planted during April and May and must be irrigated every week until they are harvested in November and December.