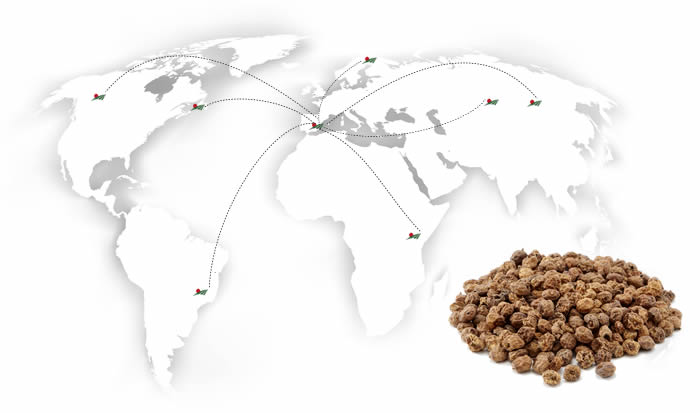 TIGERNUTS TRADERS, S.L. is a 100% Spanish Capital owned Company which was founded in 1997. Our main objective is to explore and develop the market and applications of the Tigernut (Spanish: Chufa; lat: Cyperus Esculentus), a tuber which has been traditionally cultivated in the area around Valencia (Spain). The almost unique use until this moment has been the preparation of "Horchata de Chufas", the delicious vegetable milk made from Tigernuts.
TIGERNUT RESEARCH AND DEVELOPMENT
From the same moment the company was established we have invested very much in Research and Development. With the help of well known laboratories we have studied the intrinsic qualities of the Tigernut and its uses. Nowadays the initial project has grown and we sell our products to countries all over the world for use in alimentary and pharmaceutical industry, becoming Europe's main exporter of the Tigernut and its derivates. Tigernuts Traders, S.L. is continually investing in R+ D, to satisfy market expectations.
TIGERNUT STOCK
We can supply you with any kind of Tigernut / Chufa or its derivatives at any time of the year. We have stock all year round, so we will always be able to meet your order!
Available languages: Spanish German French Chinese (Simplified) Chinese (Traditional) Japanese