ABSTRACION OF SEA WITH TIGERNUTS 
Quique Dacosta is one of Spain three restaurants and one of the five best in the World, according to the guide "Lo Mejor de la Gastronomía".
He presents us the following receipt:
INGREDIENTS FOR 4 PERSONS 
Iodine-flavoured seaweed stock: 60 gr. Onions; 40 gr. Carrots; 2 heads garlic; 30 gr. Leeks; 50 gr. Kombu seaweed; 2 peppercorns ;0.5 Kg. Cockles; 0.5 Kg. Muscles; 200 gr. Chicken legs; browned 12 oysters (3 per person); 4.5 L. Water sherry.
Tremella-mushrooms: 16 Tremella mushrooms (4 per person).
Seaweed marinade: 200 ml. Mineral water; 50 ml. Rice vinegar; 6 tbsp. Soy sauce; Icing sugar and salt crystals.
Seaweeds: kombu; Sea lettuce; Wakame and wakame shoots; Irish gums; Sea spaghetti ;Dulse; arame; hijiki.
Tiger nuts: 25 gr. Dried tiger nuts; 20 ml. Mild-flavoured olive oil; Rind of 1 ripe lemon; 1 Stalk lemon grass (1 g.); 1 Clove garlic; 3 Black peppercorns.
Thick rice vinegar syrup: 20 gr. Sugar ;2 ml. Rice vinegar; 3 l. Rice vinegar; 50 gr. Neutral apple pectin gelatine.
Others: 4 slices smoked white tuna (1 per person); 6 drops tiger nut oil (use a dropper); salt flakes.
INSTRUCTIONS 
Iodine-flavoured seaweed stock:
Mix all the ingredients, excluding the oysters,and cook for 12 hours. Leave to stand, strain and clarify. Use 25% for the serving dish and the remaining 75% for cooking the mushrooms. Tremella mushrooms: Blanch in boiling water for 10 minutes. Remove and cook in the iodine-flavoured seaweed stock, in a covered pan, at 90ºC for 2 hours. Carefully remove the stalks.
Seaweed marinade:
Prepare the base of the marinade by mixing all the ingredients and setting aside. Cook the necessary seaweeds in water for 3 hours, then drain. Mix the seaweeds with the marinade and leave to stand.
Tiger nuts: Insert the dried tiger nuts in a vacuum pack with water, salt, olive oil and a garlic clove. Cook in the Roner at 61ºC for 8 hours. Leave to stand for a further 8 hours.
Thick rice vinegar syrup: Make a caramel with the sugar and 20 ml. rice vinegar to prevent it from crystallising. When a light caramel colour appears, add the remaining 3 lt. vinegar and reduce to 80 ml. Remove from the heat and mix in the neutral apple pectin gelatine.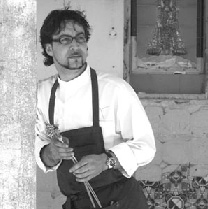 TO SERVE
Place the seaweed marinade at the centre of the plate with the oysters and tiger nuts. Arrange 3 tremella mushrooms around in a clockwise direction (at 1, 4 and 8 o'clock). Top each tremella with 3 salt flakes. Next to the seaweed marinade, tiger nuts and oysters place a slice of white tuna cut in half. Finish by sprinking the dish with a few drops of tiger nut oil…
Quique Dacosta
Restaurante: El Poblet
Dirección: Las Marinas, km.2 (Urb. Las Marinas). 03700 Denia / Alicante – España