IBERIAN SIRLOIN STEAK IN TIGERNUTS JUICE 
INGREDIENTS FOR 4 PERSONS 
600 gr. Iberian sirloin steak; 100 gr. Tigernuts; 1 l Milk; 1 tbsp. of Dijon mustard; 1 Dl. Evaporated milk; Salt; Pepper; 1 grand Smith apple; Sugar; Rosemary; Oil.
For the foie: 300 gr. Of fresh foie liver; 2 gr. salt; 1 gr. pepper; 2 tbsp. armagnac; 1 gr. sugar.
For the Tigernuts and truffle crunch: 50 gr. Egg white; 50 gr. butter ;50 gr. flour; 1 tbsp. of chufa powder; Salt ;½ tbsp. of chufa oil; Chopped truffle.
INSTRUCTIONS 
We soak the Tigernuts for 10 hours, afterwards we drain them, we chop them together with the milk and pass them through a cloth filter. Finally we mix it with evaporated milk. On the other hand we spice the Iberian sirloin steak and we coat it with the mustard, we brand them in a frying pan and we finally we add the Tigernuts juice we made before and leave it for 20 minutes at minimum temperature.
We cut the apple in small dice and add sugar on one side. Afterwards we burn this side with a torch.
Finally we get the Tigernuts and we caramelize them before putting them on top of the apple dices.
FOR THE FOIE
We get the duck liver and leave it to marinate one night with the other ingredients. Afterwards we brand them on both parts in a frying pan for a short moment.
FOR THE TIGERNUTS AND TRUFFLE CRUNCH
We mix the ingredients with a food processor and at the end we add the chopped truffle, afterwards we extend them on a silpax and put it for 8 minutes into the oven at 180º.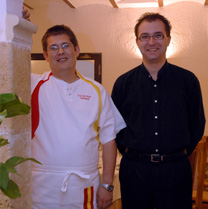 TO SERVE
We cut a piece of Iberian sirloin steak and put it in the centre of the plate, on top we place two pieces of the foie and in front we put three caramelized apple dice with rosemary. Finally we put the tigernuts and truffle crunch, we add the tigernuts sauce in which we had cooked the sirloin steak and finally we add some white truffle salt powder.

"CHIQUI"
Restaurante EL GRECO.
c/ La Mar nº 7 Denia (Alicante).
Tel.: 965 78 16 29